"THE PROPERTY CAPTURES THE ESSENCE OF TRAVEL, EXPLORATION,
AND ESCAPE"
– PACIFIC SAN DIEGO

—
The Grounds
The property is surrounded by 180 degree views of the stunning San Jacinto Mountains. Lush, green tropical foliage and desert flowers work together to create an unexpected yet fitting setting for a desert hideaway.
Our grounds consist of two full sized swimming pools; a sun-soaked main pool with full sun from the early morning until the evening, and a lounge pool shaded by towering bamboo and tropical foliage.
Each suite feels private and secluded with its own outside area and jacuzzi hot tub, yet the common grounds also share in the same privacy and tranquility, never feeling busy or crowded.
Conde Nast Traveler Hot List 2018
TOP NEW PROPERTIES IN THE WORLD
"The best combination of hotel amenities and Airbnb privacy"
- Conde Nast Traveler
—
About
Situated perfectly in between the center of Downtown Palm Springs and the serene San Jacinto Mountains in the historic Tennis Club District, The Rossi embraces old school charm with an eclectic flair in a lush tropical setting. The property has been a notable hotel destination since the 1920's, originally known as "The Wigwam."
Each of our spacious suites boasts a private patio and jacuzzi, allowing the guest experience to become one that is truly secluded and restorative. Each suite has a different "personality" and is decorated with antiques from around the world as well as both local and international artwork. The Rossi is a blend of elegant and funky, tranquil and exciting.
We offer ADA Accessibility in The Fountain Hacienda, as well as accessible parking; please see suite details for more information.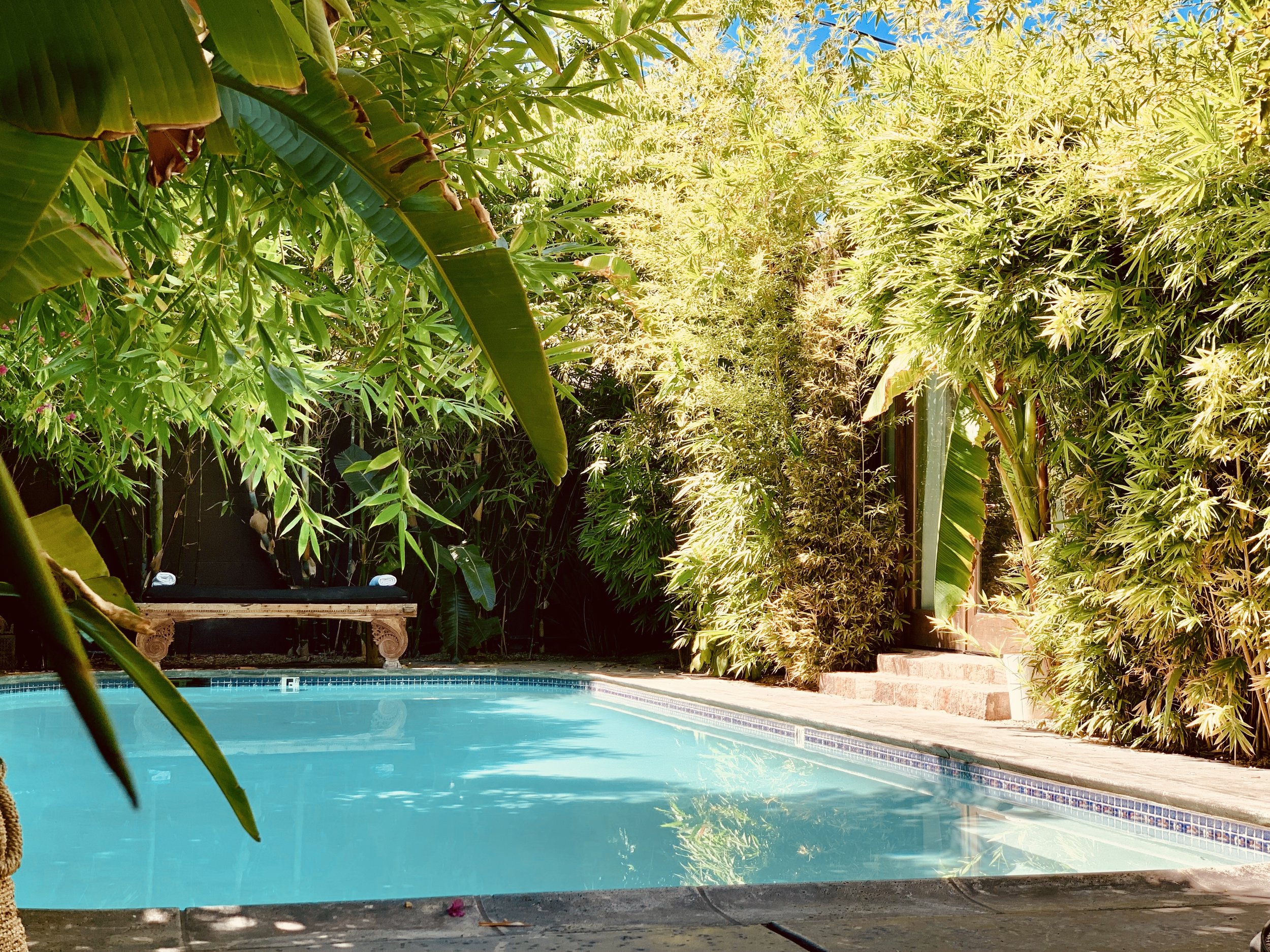 "A LOVELY OASIS OF CALM, CHARM, AND BEAUTY
REMINISCENT OF A BYGONE ERA"
– TRIPADVISOR
—
Neighborhood
Located in the famous and historic Tennis Club District, the neighborhood is quiet and mostly residential, yet located just steps away from all the Downtown action. There's no need to drive to dinner or for sightseeing; most guests leave their cars parked at the hotel and don't move it their entire stay.
The Rossi is walking distance from the many restaurants, bars, and shops on Palm Canyon Drive, The Palm Springs Art Museum, and numerous hikes and view points. It is also just a short drive to the famous Palm Springs Aerial Tramway to take in the views from 8500 feet above! For something a bit more grounded, walking tours to view Palm Springs' famous mid-century architecture happen all around The Rossi as well.